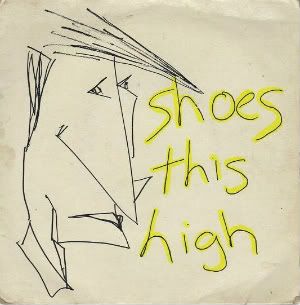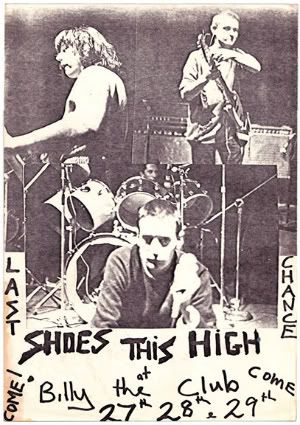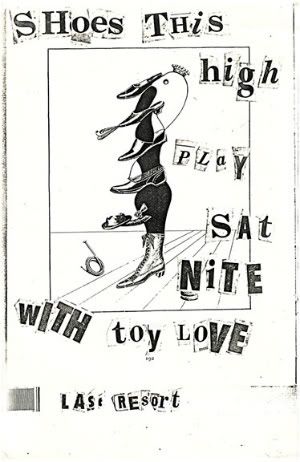 Shoes This High weren't together for very long, only a year or so in fact, but they still managed to leave behind this incredible 7" as their defining artifact. Barrelling 'round New Zealand's North island at the arse end of the 1970s, their sketchy, Rough Trade-indebted sound suggested that either (i) somebody down under was importing copies of Grotesque & A Trip To Marineville at a phenomenal rate, or (ii) John Peel's broadcasts reached a far wider audience than the Beeb intended (hats off to
The World Service
!).
Eventually settling in Auckland, the band released their eponymous EP c/o their own STH Music label in 1981, & it's 4 snotty, shambling outbursts were as hermetically innovative as the benchmark 45s their South island island contemporaries - embryonic incarnations of The Chills & The Clean - were concurrently recording for the nascent Flying Nun. It's a tragedy Shoes This High didn't hang 'round long enough to record an LP but, as a result, this solitary single has since acquired semi-legendary status, like that dumbfounding
What Is Oil? e.p.
, & justifiably so. It still sounds hilariously brilliant (& remarkably prescient) to my fagged out ears, & warrants some sort of lavish re-release, preferably supplemented with as many moth-eaten out-takes as the band's scattered ex-members can round up between 'em. Put your money where your mouth is, Mr. Domino Records, the world doesn't
need
any more cosy James Yorkston 10th anniversary repackages, it needs Shoes This High!