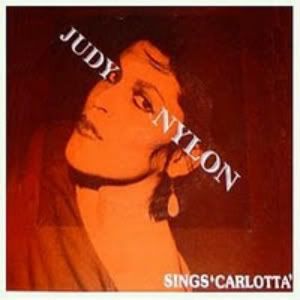 Lots of interest in the previous post, so now seems as good a time as any to re-up Judy Nylon's indecently fine Pal Judy LP. Recorded in 1982 with Adrian Sherwood & the
On-U Sound
posse, her collaborators here include members of Dub Syndicate, New Age Steppers & African Headcharge, though the overall sound is anything
but
"dubwise". Instead, it's a seductive suite of moody, twilight pop songs, each of them complemented by Judy's laconic drawl: "
a classic rainy day bit of sound & song to drift away to
", according to the NME. Though there are definite comparisons to be drawn with Nico's 80s work - a presiding John Cale influence, perhaps? - Judy's sultry cocktail post-punk rarely recalls Nico's remote, opiated ethereality.
The album was trailered by a 7" on Demon Records, twinning an overhauled version of
Snatch
's "Carlotta" with Pal Judy's crepuscular "Sleepless Night". I recently discovered an mp3 of the former squirrelled away online somewhere, so I've tacked it on to the end of the original album for your delectation, etc. Pal Judy itself was briefly issued as a
ROIR
cassette (remember
them
?) in the early 90s allegedly, though I've yet to see a copy.
Sadly, these recordings represent the extent of Judy's solo oeuvre. What a waste. As I suggested in my previous post, now that her
exceptional
collaboration with
Bot'Ox
has reintroduced her into the public domain, she/they should definitely consider hooking up for an entire LP. At the very least, somebody should consider
remastering the Pal Judy sessions properly & making them readily available again...