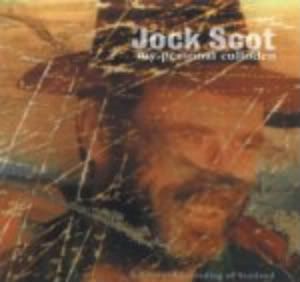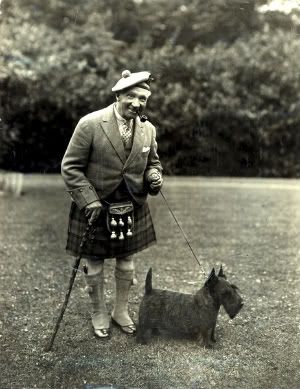 Self-professed "poet & tragedian", Jock Scot was born in Leith in 1952 & began his career in the music industry as a renown supplier of "good vibes" to entertainers as diverse as Ian Dury & The Blockheads, The Clash, Blondie, Talking Heads, Taj Mahal, Dr. Feelgood, Viv Stanshall & Wreckless Eric. After waking up in a broom cupboard at the end of a particularly arduous tour, Jock settled in West London just as the scene there, centred around The Warwick Castle pub off the Portobello Road, was regenerating. It was at The Warwick that he began reading his poetry publicly, to the acclaim of "speed-crazed street sweepers & landed gentry" alike, his anointed raconteur's voice sounding as if it might slide off of it's bar stool at any moment, much like it's owner.
A connoisseur of semi-mythic "bad" poet
William McGonagall
, it's perhaps only natural to presume that Jock's initial stage-bound ambitions might not have been
entirely
serious. However, his first book, 1993's roguishly autobiographical Where Is My Heroine?, quickly sold out it's entire print run &, having renewed his acquaintance with ex-Fire Engine
Davey Henderson
(who he'd previously known in Edinburgh & who was at that point fronting The Nectarine No.9), Jock was coaxed into making his first recordings for Alan Horne's briefly reignited Postcard label, leading to 1997's soon-to-be-legendary My Personal Culloden LP. I'd first encountered Jock's work a couple of years prior to this c/o "Going Off Someone", his first collaboration with The Nectarine No.9, originally showcased on their Un-Loaded For You EP but also included on N#9's debut Peel session (later purloined for posterity on the Guitar Thieves comp). Like the disparate
handful
of other folk who were listening to N#9's work at the time, I'd assumed that Jock was a semi-satirical Davey Henderson alter ego, so when he shambled on stage in person to perform with the band on their 1995 tour, supporting a pre-trauma
Edwyn Collins
(their short set opened with Jock's acerbic "Just Another Fucked Up Little Druggy On The Scene" & closed with "Going Off Someone"), I was honestly a little taken aback. Dark, touching, crushingly honest & frequently hilarious, My Personal Culloden barely registered outside of N#9's small coterie of listeners &, due to the untimely collapse of Postcard², it slithered in & out of print before it had the opportunity to make a proper impression. Try searching for it on the 'net, it's only a decade or so old yet it's virtually impossible to find out
anything
about it.
Jock's been worryingly quiet since My Personal Culloden's release. Aside from one other album, 2006's similarly caustic
The Caledonian Blues
with debauched accomplice
Gareth Sager
(The Pop Group, Rip Rig & Panic, Head, et al), he seems to have disappeared without trace. I hope he's OK, the biographical DVD that accompanies the Sager LP is a bit of an eye opener, to put it mildly! Somebody make this man a star or, better yet, give him his own Hogmanay show on Channel 5.
Fingers crossed
he's busy working on his autobiography... if so, the talking book'll be a riot!
N.B. Bonus Jock Alert: For completion's sake, I've also enclosed "A Cold Meat Pie" from the scarce South Of An Imaginary Line EP. Ship ahoy.
● LINK REMOVED. Now available to buy c/o Amazon & iTunes.