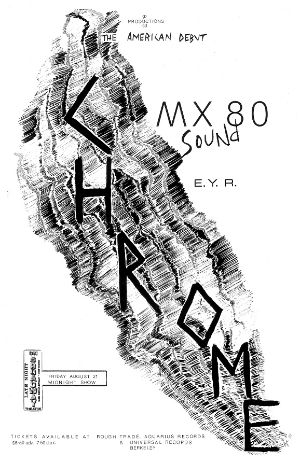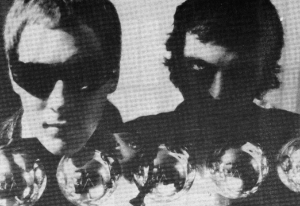 Legend insists that
Chrome
's classic Damon Edge / Helios Creed-fronted configuration only ever played two bona fide gigs - that is, pre-advertised full band performances in front of a paying audience - during its rather-too-brief existence.
This better-than-average sound-board recording of their final show - actually their sole appearance on their Californian home turf - was taped "On Broadway" at San Franciso's Mabuhay Gardens on Friday 21st August 1981, mid-way between their metal-influenced
Blood On The Moon
and
Third From The Sun
albums. A quick sweep of the 'net suggests it's been circulated less widely than one might expect, which necessitates its inclusion here I suppose. Naturally, it's an oppressively heavy affair, Chrome's dense tape-enhanced live sound invoking a claustrophobic web of discorporate televisual harangue, static-spitting radio fragments, distortion-steeped acid-punk guitar disfiguration, and a clattering fusillade of drums. Sadly, this line-up - comprising vocalist and guitarist Damon Edge (real name: Thomas Wisse), lead guitarist
Helios Creed
(real name: Barry Johnson), and rhythm section John and Hilary Stench (real surname: Haines) - would only survive another year or thereabouts, disbanding following Edge's decampment to Paris with his then-partner
Fabienne Shine
(of popular French hard-rockers Shakin' Street) shortly after
Third From The Sun
's release. Both Edge and Creed would record separately and prolifically for the subsequent decade, Creed eventually reclaiming the Chrome mantle for himself following Edge's untimely demise in 1995.
Incidentally, Chrome's
other
live show - their debut, in fact - took place a month earlier in Bologna, Italy and was bootlegged in full on the
Chromosome Damage
LP back in the mid 1980s. Seek and ye shall find.
Set-list:
Introduction / Insect Human / Out of Reach / Brain On Scan / Blood on the Moon / Pulsating Android - Jam / Innervacuum / Perfumed Metal / Armageddon / Future Ghosts / The Stranger.
Thanks: Mike Kaupp (poster) and Victor Andrews (clipping).
☸ Don't Fall Off The Mountain